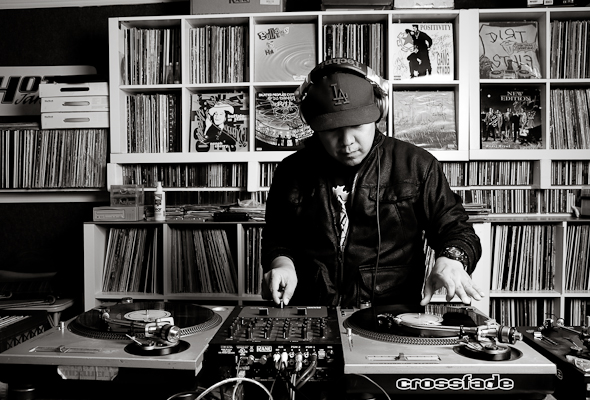 Click Image for Gallery
Before photography was my passion, Dj'ing was my full time obsession. I became part of a local Monterey Park DJ crew called Livitup Productions in 1996. The crew's member at the time was James "Hey Mesa" Woo, Alex "Dj Rewind" Sarrio & Jordan " Dj Shakee" Abrantes. My first ever gig was this Filipino debut banquet I helped on. Jordan literally gave me my first break at this event. That night was my first ever "premiere" spinning for some kids. I don't even think I got paid but I didn't care, I was spinning!
I have since turned in my headphones and started my new venture in photography. Dj Shakee though, is still belting out tunes on the wheels of steel at clubs, lounges or at the Livitup "Lab" where thousands of vinyl he and all former members collectively accumulated over the past 18 years are neatly organized.
Here is a recent interview I did with this Dj vet.
Vushots: When did u start Djing?
Shakee: 1991 with Livitup Productions.
Vushots: Whats the first record you ever bought?
Shakee: First record owned was a Disney record from when I was about 3 years old. First record bought
with my own money was either Feels Good by Tony Toni Tone, or Miss You
Much by Janet Jackson. Not really sure.
Vushots: What was the most memorable event you spun at?
Shakee: There's a lot of those. Its probably a tie between the 90s Reunion show at the
Inglewood Forum, and the Hancock Wrap party at the Sony studios.
The 90s reunion show was cool, cause I got to DJ at the Forum and that
is where I saw one of my first concerts. Also, the crowd was going
nuts for every record I dropped. The whole place was doing the dance
when I dropped the Bird by Morris Day and The Time. The first person
to give me props on a good set was my friend Ivan. That was the last
time I saw him alive, cause he passed away in a car accident a few
months later.
The Hancock party was awesome, cause I got to open for DJ Jazzy Jeff,
and Doug E Fresh. At one point I was even on stage with Will Smith.
There was a big stage, and each DJ had his own set up. Spotlights and
the whole nine.
Vushots: What are you current projects?
Shakee: I always have a mixtape/CD idea in
mind. Its just a matter of sitting down to do it. Also getting more
in video DJing. And I have some friends who have a singing group. I
have a track with them that we're in the middle of working on.
Vushots: What is your dream set list(name 5)
Shakee: That definitely varies…
Michael Jackson – Rock With You
De La Soul – Keepin The Faith
Prince – Erotic City
Run DMC – Peter Piper
New Edition – Cool It Now
Jordan is also video editor and has done some work for various online magazines such as TurntableLife.com . You can find some of Shakee's free mixes on his website and blog DjShakee.com .